A Home Warranty Service Agreement (home warranty) helps cover repair and replacement costs when your home's systems and appliances break down from routine use. But which systems and appliances could fall under your home warranty's coverage? A Home Warranty Service Agreement from 2-10 Home Buyers Warranty (2-10 HBW) can cover up to 21 home systems and appliances. Here are five common systems and appliances that a 2-10 HBW Home Warranty can help you protect.
HVAC repair and replacement
Water heater repair and replacement
Appliance breakdowns
Plumbing leaks
Stopped up drains
Protect more,
pay less with 2-10
Low-cost home service plans.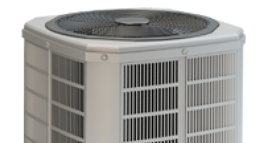 Doesn't my homeowners insurance cover these things?
No, this is a common misconception. Homeowners insurance covers things like weather damage, fire, and theft. It won't cover things like an HVAC breakdown or broken water heater when they break down from normal wear and tear.
That's why a 2-10 HBW Home Warranty is valuable. It helps fill the gaps homeowners insurance may not cover. A home warranty can protect you from the financial costs of breakdowns to major systems and appliances. These breakdowns can range from hundreds to thousands of dollars in upfront, out-of-pocket
Let's look at the most common breakdowns a 2-10 HBW Home Warranty covers.
1. HVAC repair and replacement
HVAC repair and replacement is a common home repair covered by a 2-10 HBW Home Warranty. Most homeowners don't know how much an HVAC repair or replacement can cost until it's staring them in the face. For instance, an HVAC replacement can cost $7,070 on average. (Based on data collected in November 2021. Costs in your area may vary.)
A 2-10 HBW Home Warranty can protect against the costs of unexpected breakdowns for a fraction of the out-of-pocket costs to you. It doesn't matter how old your HVAC system is. If it was in good working condition before you signed your Home Warranty Service Agreement, a 2-10 HBW Home Warranty could cover it.
2. Water heater repair and replacement
Tank water heaters generally last 10 years. Tankless water heaters can last 20 years. How long it lasts largely depends on maintenance, the type of water in your home, and the installation. When your water heater breaks down, a 2-10 HBW Home Warranty could help you. With the average replacement cost hovering around $1,660, a home warranty could protect you when one of the most important systems in your home breaks down.
3. Appliance breakdowns
Your major appliances will break down eventually. They often break down after the manufacturer's warranty expires, leaving you solely responsible for repairs or replacement. A 2-10 HBW Home Warranty could address this problem directly by covering your most valuable appliances, like the following.
Refrigerator
Oven/range
Dishwasher
Built-in microwave
You can also protect additional appliances by adding optional coverage, such as the following.
Additional refrigerators outside the kitchen (e.g., in the basement or garage)
Wine coolers
Standalone freezer
Roof leaks
Certain septic systems
Washer/dryer
Well pumps
Water softeners
Pool/spa equipment
4. Plumbing leaks
Plumbing leaks can drain your budget. Leaky faucets and running toilets can cost you hundreds of dollars on your annual water bills. Even worse, plumbing leaks or line breaks can cause serious damage to your home. A systems and appliances home warranty from 2-10 HBW can help you cover some or even all of the costs related to these problems.
5. Stopped up drains
There are countless reasons for stopped-up drains. A  2-10 HBW Home Warranty addresses many them. With a simple click or call, 2-10 HBW can help you set up time with a service contractor to assess the stoppage.