Real estate home warranty plans from 2-10 Home Buyers Warranty (2-10 HBW)
As a real estate agent, provide budget protection for your Sellers and Buyers to safeguard your transactions. By protecting your clients' biggest investment, you are also protecting your time and business. Now you can stop taking calls about appliance failures and homeowner claims, and instead, spend your time achieving your sales goals.
---
68%
of homes will experience a breakdown each year.
Why provide a home warranty for your clients
When something goes wrong with a home, it can be expensive and inconvenient.
A home warranty is a powerful tool that can help protect against some of the financial risks that come with owning a home. When major systems or appliances break down, homeowners often face unwieldy costs that can seriously impact their budgets. A home warranty is an excellent way to protect against these expenses.
---
New appliances breakdown too.
In fact, they have at 20% chance (or higher) of breaking down within the first four years of ownership.
Unexpected Is Expensive.®
A home warranty from 2-10 HBW:
Covers the costs for appliances/systems repairs
Pays for new replacements if needed
Lowers the overall cost of home ownership
Offers peace of mind and a greater sense of assurance
Enroll Now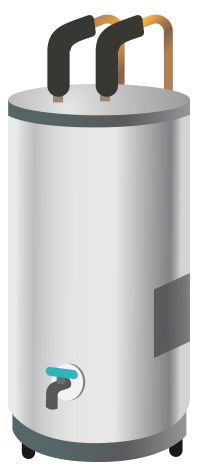 $1,790
Average replacement cost of a water heater without a home warranty
---
$6,400
Average replacement cost of an HVAC system without a home warranty
---
What is a systems and appliances warranty?
Watch our video to learn more about home warranties.
---
What systems and appliances are covered with a 2-10 HBW home warranty?
Protect your clients' home and budget today
A Home Warranty Service Agreement from 2-10 HBW covers eligible systems and appliances that break down due to normal wear and tear. Your clients will appreciate the protection – and the agent who recommended it.
Protected Systems
Air Conditioner
Furnace
Plumbing
Water Heater
Electrical Panel / Wiring
Protected Appliances
Refrigerator
Oven
Dishwasher
Disposal
Washer & Dryer
Built-in Microwave
Additional Options
Additional Refrigerator
Wine Cooler
Stand Alone Freezer
Extended Pipe Leak
Roof Leak
Septic System
Pool / Spa Equipment
Water Softener
Well Pump
Refer to your Service Agreement for specific coverage details and exclusions.
---
What's the difference between home warranty coverage and homeowners insurance?
Homeowners insurance covers loss from incidents like fire, storms and vandalism. A home warranty protects critical systems like your air conditioner, furnace and water heater, plus appliances like your refrigerator, oven, microwave and more.
Read our Pocket Guide to Comprehensive Coverage
Learn about the differences in coverage between a home warranty and homeowners insurance.
Download Guide
Here's how a home warranty works
Provide Coverage
Provide home warranty coverage for your clients.
Create Account
Homeowners visit Homeowner Portal to register and complete their profiles.
Request Service
When an eligible breakdown occurs, the homeowner may request service through Homeowner Portal or by calling 800.775.4736.
Contractor Dispatched
An independent service contractor is dispatched.
Happy Home
Rest easy, your clients have a happily serviced home.
Offer home warranty protection that is simple and economical
REAL ESTATE
HOME WARRANTY
Seller
Systems & Appliances
Coverage for major appliances (including refrigerator with ice maker), heating, plumbing and electrical.
REAL ESTATE
HOME WARRANTY
Buyer
Systems & Appliances
Coverage for major appliances (including refrigerator with ice maker), HVAC, water heater, electrical, plumbing and more.
Enroll Now
Or call Agent Services at 800.795.9595 to enroll coverage.
---
Why choose a home warranty from 2-10 Home Buyers Warranty?
41 years of industry experience
We've covered over
6 million homes
We pay 97.5% of claims