Texas home builder & structural warranty
Everything's bigger in Texas, including building risks. That's why Texas builders become Builder Members.
Areas of Texas represent some of the highest risk for structural claims in the entire country based on historic data. That's why 2-10 Home Buyers Warranty (2-10 HBW) offers a 10 year structural warranty to meet the needs of builders and homeowners in the Lone Star State.
Get a builder quote
Top 7 benefits of becoming a 2-10 HBW Builder Member in Texas
1
Protect homeowners and your business by transferring your risk to an insurance-backed structural warranty effective from day of closing
2
The workmanship, systems and structural warranties follows the Performance Standards developed and accepted by the Texas Association of Builders (TAB)
4
Cover qualified structural defect repair cost for 10 years through the 2-10 HBW insurance-backed structural warranty
5
Save time and money, minimizing frivolous lawsuits through 2-10 HBW administered dispute resolution and arbitration upheld by the Supreme Court
6
Offer fully transferrable warranties to your buyers, with no mandatory builder deductibles
7
Give yourself, potential buyers and homeowners peace of mind by providing the nation's industry-leading structural warranty
A full suite of warranties and services to help Texas home builders
What is a 2-10 HBW Structural Warranty?
2-10 HBW is the leading provider of structural home warranties in the US. Our structural warranty covers workmanship defects for 1 year, distribution systems defects for 2 years and structural defects for 10 years.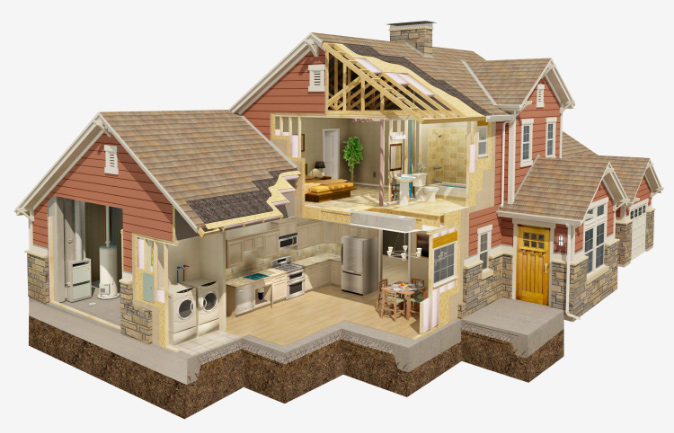 Workmanship
Clearly defined construction standards for defects in materials and workmanship.
Distribution systems
Clearly defined construction standards for defects in the distribution of electrical, plumbing and mechanical systems.
Structural
Insurance-backed coverage
Load-bearing elements
Soil movement, including settlement and heave.
View structural warranties
Why should Texas builders choose 2-10 HBW?
In Texas, home foundations fail at a rate 10 times higher than the national average, and our great state is one of the "Top 3" highest risk states for structural failures. Foundation movement is the leading cause of structural claims, and soil problems are often to blame. Shifting soils, improperly compacted soils, and other factors can all lead to structural failures in a home, especially in a large state with a vast array of soil types. Luckily, there's a comprehensive solution for Texas builders.
The 2-10 HBW program has paid over $63 million on behalf of Texas builders. We also have a long history of protecting builders' interests in the state, and with more than 150 years of combined engineering and construction experience, we understand the unique complexities of building homes here.
Benefits of a Texas builders warranty
Protect your profit on every home you build
Each warranty call you receive erodes your bottom line. Whether it's a major structural defect or simply a meticulous homeowner, every call costs you money.
Promote your quality and create homeowner confidence
Warranties administered by 2-10 HBW provide third-party validation of the quality of your work, strengthen your legal position, bolster your reputation, and set expectations for your buyers.
Plan for your future by controlling what's behind you
With every home you build, your exposure to risk increases. By law, you are responsible for the financial impact of any structural defect that occurs in the homes you build for the entire Statute of Repose for your state.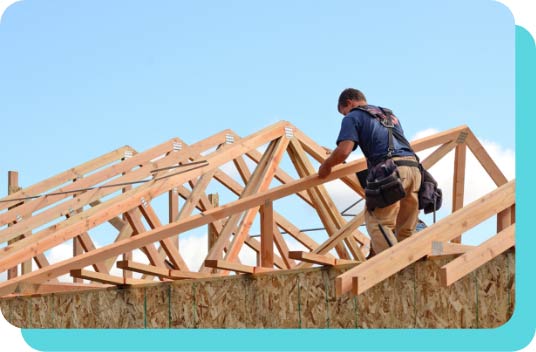 Made by Texans, for Texans
2-10 HBW Structural Warranties in Texas explained
Gain the confidence of your buyers with our structural warranties, which protect homes right from the day of closing. A 2-10 HBW structural warranty is the most common new-home warranty product provided by quality home builders, with 1 in 5 new homes sold in America covered by a 2-10 HBW Structural Warranty.
What load-bearing components are covered in Texas with a 2-10 HBW Structural Warranty?
Floor Framing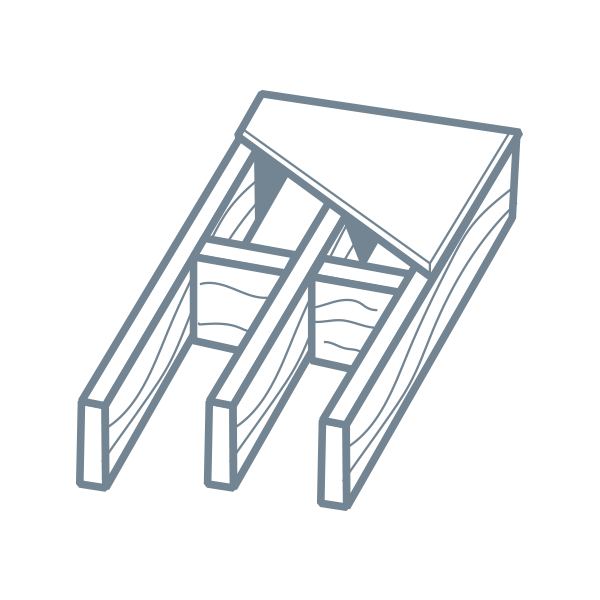 Coverage is provided for structural supports for load-bearing elements in floor systems, including joists and bridging. Damage to non-load-bearing elements, such as flooring and underlayment material, is not covered.
Columns
A structural element that transmits, through compression, the weight of the structure above to other structural elements. However, damage caused by additions or alterations to the home is not covered.
Beams / Girders / Lintels
Horizontal structural members of wood, steel, reinforced concrete or stone that support and transfer loads to vertical members such as columns and foundations. Decorative elements without a load-bearing function are not covered.
Footings & Foundation Systems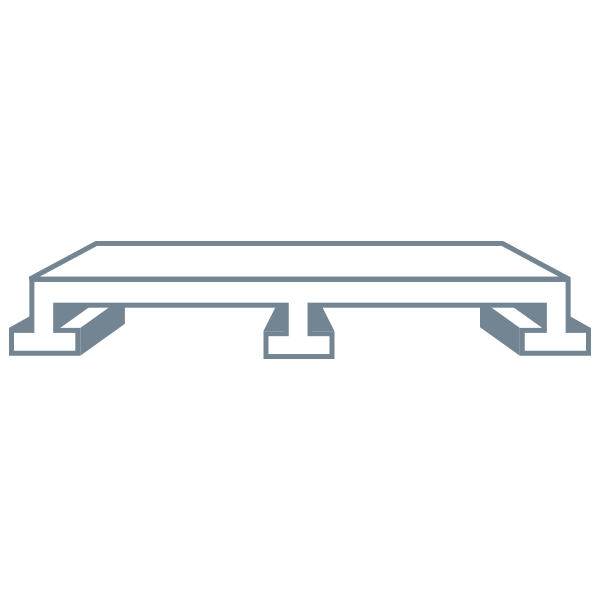 Often classified as shallow or deep foundations, based on the depth of the load-transfer member below the super-structure and the type of transfer load mechanism. Foundation system requirements depend on strength and compressibility of the site soils, proposed loading conditions and project performance criteria.
Load-Bearing Walls & Partitions
All exterior walls are load-bearing walls and are covered. Interior load-bearing walls that support the floors above and the attic's weight are also covered. Note that improper loading over the design criteria for which that portion of the house was intended will not be covered.
Roof Framing Systems
A group of studs fitted or joined together to provide support for the roof covering. Non-load-bearing elements, such as shingles, roof tiles, sheathing and underlayment are not eligible for coverage.
Become a 2-10 HBW Texas Builder Member
Before purchasing structural coverage for each home you build, you'll have to become a 2-10 HBW Builder Member.
To complete an application, you'll need a few pieces of information, including but not limited to:
Number of homes built the past 3 years
Average sales price
Estimated number of homes you plan to sell/close on and enroll in the 2-10 HBW program
Once 2-10 HBW approves your application, you'll receive your online login credentials to easily manage your warranty coverage and enroll your homes.
Engineering, soil, and state inspections may be required prior to enrolling a home. But don't worry! We'll work with you to make enrolling as easy as possible.
1 in 5 new homes has a structural warranty administered by 2-10 HBW
More Texas builders choose 2-10 HBW for warranty services
As the largest and most experienced structural warranty administrator, we've seen more and covered more than anyone else. Our size and expertise means more resources to better serve you and your homeowners.
Protect your profits, promote your quality, and plan for the future.
Focus on what you do best: building great homes and growing your business.
Frequently asked questions
Structural warranties give builders and homeowners alike assurance they are protected, and because third party warranties are so common in Texas, offering a warranty helps builders be competitive.
Further, because Texas is the second largest state in the country, it has very diverse geological and meteorological characteristics. The elevation varies dramatically, ranging from sea level to over 8,000 feet — which means we have lots of different soil types. Rainfall is another consideration when building, as precipitation amounts vary from less than 14" per year in the arid west to over 54" in the coastal east. The geologic conditions and hazards for home construction vary considerably, often over short distances, and a quality structural warranty will cover homes in all of these areas.
No, 2-10 HBW's warranty does not exclude "drought." After all, some part of Texas is always experiencing drought.
Absolutely. We offer fully transferable warranties to your buyers. If the original home buyer sells their home before the 10 year coverage is complete, this protection can be transferred to the new owner.
Yes, our 2-10 insurance-backed structural warranties are HUD approved.
We have been proudly providing structural warranties and risk management solutions in Texas for over 30 years. We have five hands-on Builder Solution Specialists that reside in Texas, and two of our professional engineers are licensed in Texas.
Consistent with standard industry practice and the International Residential Code (IRC), 2-10 HBW has special enrollment requirements for high-risk areas (see the list below) to help builder members manage their risk and reduce the potential for claims.
Central Texas High-Risk Counties:
Bastrop
Bell
Blanco
Bosque
Burnet
Caldwell
Collin
Comal
Cooke
Corell
Dallas
Denton
Ellis
Falls
Fannin
Grayson
Guadalupe
Hays
Hill
Hood
Hunt
Johnson
Kaufman
Lampasas
Lee
Limestone
McLennan
Milam
Montague
Navarro
Parker
Rockwall
Somervell
Tarrant
Travis
Williamson
Wise
These requirements may include:
A geotechnical investigation submitted prior to the start of construction.
A final grade inspection to confirm grading and gutters, which must be submitted with the Home Enrollment Application.
A controlled method of water disposal (such as gutters) from roofs that will collect roof drainage to the ground surface, at least 5 feet from the foundation.
Don't worry, though, with 2-10 HBW you've got an experienced team ready to help you navigate the process. To learn more about enrolling homes built in high risk areas, please contact your local Builder Solutions Specialist or call 855-280-1323 for additional information.
2-10 HBW's warranty products are reinsured by Swiss Re and SCOR Re, two of the world's largest reinsurers. With combined surplus holdings in excess of $4 billion, you can trust the financial backing of our warranties. We have paid out more than $250 million in structural defect claims, helping our builders protect their business and their customers.
We build quality from the ground up.
Focus in what you do best:
building great homes and growing your business.
Or call New Home Sales at 877.777.1344.