Buying or Selling a Home?
2-10 Home Buyers Warranty (2-10 HBW) has covered over 6 million homes for the past 40 years.
Purchasing a home is a big decision that comes with major responsibilities and significant risk. Unexpected systems and appliances breakdowns can lead to thousands of dollars in repair or replacement costs. To minimize the expense of home ownership, it's important to avoid the high cost of repairing and replacing key systems and appliances.
Request From Your Agent
68%
of homes will experience a breakdown each year.
---
New appliances breakdown too.
In fact, they have at 20% chance (or higher) of breaking down within the first four years of ownership.
Unexpected Is Expensive.®
A home warranty from 2-10 HBW:
Covers the costs for appliances/systems repairs
Pays for new replacements if needed
Lowers the overall cost of home ownership
Offers peace of mind and a greater sense of assurance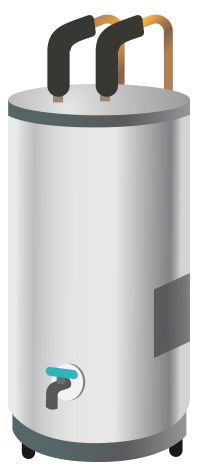 $1,790
Average replacement cost of a water heater without a home warranty
---
$6,400
Average replacement cost of an HVAC system without a home warranty
---
Home systems and appliances warranty plans from 2-10 HBW.
Seller Coverage
2-10 Home Buyers Warranty (2-10 HBW) Seller coverage is complimentary*, where allowed by law, providing budget protection against unexpected breakdowns while your home is on the market.
Complimentary coverage for the Seller's major appliances (including refrigerator with ice maker), heating, plumbing and electrical.
The Seller A/C and Heat Pump option is $50, and if selected, payment is due at closing.
Seller coverage in Florida is $60 and includes A/C and Heat Pump coverage.
If a service request is placed on an eligible item, a service fee is due.
Benefits of Seller coverage:
Differentiate your home in a competitive market.
---
Reduce closing delays due to unexpected breakdowns.
---
Budget protection while your home is for sale.
Buyer Coverage
Coverage for the home's major appliances (including refrigerator with ice maker), HVAC, water heater, plumbing, electrical and more.

A 2-10 HBW home warranty provides you with superior coverage and budget protection when you need it most. You can rest easy knowing your home and budget are protected by the industry-leading home warranty company who does things the right way.

Buyer coverage is for one year and can be renewed annually.
Benefits of Buyer coverage:
Protect your home from unexpected repair and replacement costs.
---
Up to $100 for installing new door locks, making key copies and/or re-keying your home with Happy Home Lock & HardwareSM* from 2-10 HBW.
---
Get access to our exclusive Appliance Discount Program and Appliance Replacement Offer.
---
Conveniently request service online 24 hours a day, 7 days a week.
*See Service Agreement for details.
---
What do real estate home warranties cover?
A Home Warranty Service Agreement from 2-10 HBW covers eligible systems and appliances that break down due to normal wear and tear. You can rest easy knowing your largest investment is protected.
Request From Your Agent
Protected Systems
Air Conditioner
Furnace
Plumbing
Water Heater
Electrical Panel / Wiring
Protected Appliances
Refrigerator
Oven
Dishwasher
Disposal
Washer & Dryer
Built-in Microwave
Additional Options
Additional Refrigerator
Wine Cooler
Stand Alone Freezer
Extended Pipe Leak
Roof Leak
Septic System
Pool / Spa Equipment
Water Softener
Well Pump
Refer to your Service Agreement for specific coverage details and exclusions.