Grab your pumpkin-flavored toolbox and use these six home maintenance tips to get your house ready for winter and reduce the likelihood of breakdowns among your systems and appliances.
Clean Out Your Gutters
Gutter cleaning is a fall home maintenance tradition. As the leaves fall, they often end up in your gutters. This can cause flooding and structural damage in the worst scenarios. But with a little maintenance, you can avoid these kinds of disasters. In general, all you'll need to clean out your gutters are a ladder, gloves, and a trash bag. The most important thing you can do is make sure the ladder is level and have someone spot you so you don't fall. For a more detailed rundown of things to do with your gutters this fall, read our article.
---
Drain Your Water Heater to Reduce Mineral Buildup
Fall is a great time to drain your water heater. Over the year, your water heater's tank and spigot may have built up mineral deposits. These minerals can cause your water heater to run less efficiently. That means it's more likely to break down, which is the last thing you want in the dead of winter. Before it gets too cold, drain your water heater. We've created a step-by-step guide to help you drain your water heater tank.
Protect more,
pay less with 2-10
Low-cost home service plans.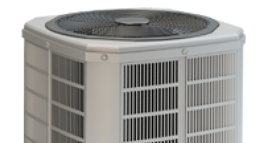 Clean Off Your Outside Air Conditioner
Throughout the summer, grass clippings, leaves, grime, and other yard waste may have found their way into your outdoor cooling unit. Sometimes, animals will even build nests in it! All of these unwelcome guests create problems for your air conditioner, which can carry over to next year. But with a little bit of simple cleaning, you can prepare your air conditioner for next summer and beyond.
If you notice leaves or nests around your air conditioner, clear them with a broom. Check the nest for any animals first. If you notice animals living in your air conditioner, you may want to call a professional to remove them. For grass clippings and grime stuck to the fan, simply use a garden hose to wash them down. These easy steps can lengthen your air conditioner's life and keep it running smoothly.
---
Turn Off Outdoor Faucets and Disconnect Hoses
If you live somewhere that gets cold winters and have an outdoor watering system, you'll want to begin shutting it off. Forgetting to shut off your watering system can lead to plumbing problems if the pipes freeze and burst. Follow the instructions for your specific watering system to turn it off properly.
Additionally, be sure to disconnect any hoses from outside faucets to avoid freezing. If possible, store the disconnected hoses someplace where they won't freeze, like a garage, shed, or basement. This fall home maintenance tip can save you a bundle!
---
Change Your Air Filters
Over the past few months, you've likely used your air conditioner to keep your house cool. So, you'll want to change your air filters for your HVAC system. As the HVAC system distributed cool air, it also filtered out allergens and dust. As your filters get dirty, they filter air particles less efficiently. That means less healthy air, which isn't something you want as you spend more time indoors this winter.
---
Purchase a 2-10 Home Service Plan
Perhaps the best way to prepare for winter is by purchasing a Home Service Plan from 2-10 Home Buyers Warranty (2-10). A 2-10 Home Service Plan can protect you against unexpected breakdowns caused by routine wear and tear. So, even if a covered item breaks down after you do everything right, you have a solution.