When winter's chill hits, make sure your house is equipped to stay warm and cozy all season long. These tips will keep you comfortable and help save money on utilities.
Conduct an Energy Audit
According to the US Department of Energy, the first step to keeping your home warm in winter and your utility bills in check is to conduct an energy audit. An audit can help identify where your home is losing energy (and in turn money) and often leads to actionable steps that can reduce your utility bills by as much as 30%.
---
Use the Sun to Your Advantage
If your windows face south, sunshine can be a free source of warmth all winter long. Throw open those curtains or raise up those blinds and let the sun warm your home. Conversely, close the drapes and lower blinds as a barrier to the cold when the sun goes down.
---
Guard Against the Draft
Thermal window treatments can help keep the cold at bay. Try insulated blinds or thermal-backed curtains and see how quickly they pay for themselves in energy savings. To add another barrier to the chilling wind, heavy-duty plastic around the window frame can do the trick. You can DIY with a plastic sheet and double-sided tape or buy a kit to seal them up tight.
Thermal window treatments and kits or plastic sheets can be found at home improvement stores, big-box retailers, or online. Here's a full list of energy-efficient window treatments.
Sealing leaks also will cut drafts. The Department of Energy recommends sealing air leaks around utility cut-throughs for pipes, gaps around chimneys, recessed lights in insulated ceilings, and unfinished space behind cupboards and closets. Here's a primer on finding leaks and air sealing your home.
Also key is adding caulking or weather-stripping around doors and windows. Again, the Department of Energy offers resources for choosing the right weather-stripping or caulk and how to properly install it.
Protect more,
pay less with 2-10
Low-cost home service plans.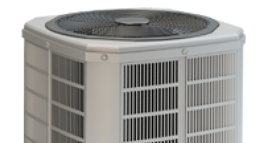 Check the Fireplace
Keeping the fireplace damper closed unless a fire is burning will reduce air loss (and thus heat loss). Other tips to ensure your fireplace is a source of warmth rather than an avenue for heat to escape include:
Install tempered glass doors and a heat-air exchange system that blows warmed air back into the room.
Check the seal on the fireplace flue damper and make it as snug as possible.
Purchase grates made of C-shaped metal tubes to draw cool room air into the fireplace and circulate warm air back into the room.
Add caulking around the fireplace hearth.
---
Proper Heating System Maintenance
The best thing you can do to ensure your HVAC system will adequately and efficiently heat your home is maintain it. Among key steps to keeping it running in tip-top shape are replacing your furnace filter regularly and scheduling service when a problem arises.
The Department of Energy offers a good introduction on maintaining furnaces or boilers and heat pumps. If your system is aging beyond the point of cost-efficient repair and maintenance and you need to purchase a new one, don't forget to cover it with a Home Service Plan from 2-10 Home Buyers Warranty (2-10).
---
Set the Right Temperature
An essential step to saving money on utility bills is setting and adjusting the thermostat for when you're home and when you're away. Whether you do it manually or with a smart or programmable thermostat, set the temperature at the lowest possible point for comfort at hours you will be home and lower it when you're away from home or asleep in bed. The Department of Energy reports that lowering the thermostat 10 to 15 degrees for eight hours can save 10% on your heating bills.
---
Let 2-10 Help You Stay Warm
A huge source of frustration for homeowners is when the furnace breaks down un the dead of winter, especially when it can costs thousands of dollars to repair or replace. With a 2-10 Home Service Plan, you can reduce those costs and access the convenience of a trusted contractor network when you need it most.