A home with a tidy exterior is a source of pride. Even if you have no intention of selling your home, curb appeal is still an important part of an excellent experience of homeownership. Here are some easy and fun tips to keep your home's exterior in tip-top shape.
Plant Some Greenery in the Ground and in Pots
Planting greenery in the ground and in pots is a classic way to spruce your home's exterior and give it some pop. It can also be a great way to attract helpful insects and birds, like bees and hummingbirds.
You might consider planting bulbs in the ground that produce flowers that bloom in waves. For example, daffodils in early spring, tulips in late spring, and dahlias in the summertime.
Another great option is to plant annuals in decorative pots. Potted plants can create a welcoming path to your front door, in addition to adding sweet smells as you approach your home.
Plus, planting greenery is a proven stress reliever. It can help you get exercise, bond with family members, and improve your concentration, too.
---
Power Wash Your Sidewalk, Porch, and Driveway
Power washing is one of the most fun cleaning chores you'll ever do. It's easy to underestimate just how much dust and dirt can cake onto your home's exterior surfaces. Power washing can clean those exterior surfaces up in a snap.
On top of making your home's exterior even more attractive, there are few things more satisfying than watching years of grime wash away so quickly. When you have concrete and wooden surfaces that look like new in a matter of minutes, it offers a sense of accomplishment for you.
---
Keep Your Windows Clean
Window cleaning is an easy way to boost your home's exterior tidiness. Over the year, it's likely that rain, snow, dust, and animals will have affected your window glass. And with hose attachments, it's easier than ever to clean your windows without residual water stains.
While professional window cleaners may recommend against using garden hose attachments and attachable cleaners, for an easy clean, it's a good way to go.
Protect more,
pay less with 2-10
Low-cost home service plans.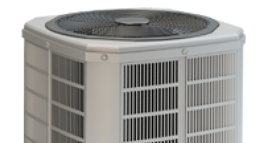 Make Your Lighting Strong
Porch and other exterior lights all burn out eventually, so replacing those lights is a routine part of keeping your curb appeal up.
But there are even more ways to use light to your advantage. For example, if you fly an American flag during the day, you might consider using spotlights to keep the flag flying at night as well (weather permitting).
Likewise, if you have plants or greenery you're really proud of, you can leverage lighting to show it off even at night!
You can also use smaller, solar- or battery-powered lights to create a pathway to your front door or porch.
---
Clean Your Roof and Gutters
A well-maintained roof and gutter system helps frame your house's tidy exterior. Every so often, get on your roof (or hire a professional) to make sure that the shingles are in good shape and don't have moss growing on them.
Reinforce loose gutters as well. Doing so keeps your home's exterior looking tight and allows water to flow away from the home, which protects the foundation.